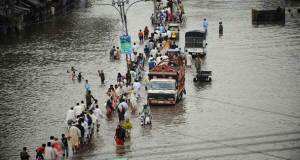 At least 32 people have been killed and dozens more injured after three days of heavy rain and storms in Pakistan, officials say.
Most of the deaths were in the north of the country, where roofs caved in and houses collapsed, killing several children.
Six members of one family are reported to have been swept away by floodwaters.
In places more rain fell in three days than would normally fall in the entire month of February.
At least 25 people were killed in the north-western Khyber Pakhtunkhwa province.
There were reports of three soldiers missing in an avalanche in the district of Lower Dir.
Officials say more bad weather is expected in the middle of the month, but it is not likely to be as destructive as the storms this week.
Pakistan has been subjected to devastating monsoon floods for the last three years.
The worst were in 2010, when almost 1,800 people were killed and 21 million people affected.
source: bbc.com