Memory Eternal!!!
His Beatitude Ignatius IV (1920-2012), Patriarch of Antioch and All the East, fell asleep in the Lord today, December 5th, 2012, at St. George Orthodox Hospital in Beirut Lebanon, after having suffered a stroke earlier this week. 
Biography
His Beatitude Patriarch Ignatius IV (Hazim) of Antioch and All the East was born in 1920 in the village of Muharda, near the city of Hama Syria. In 1936, he moved to Beirut, where he became an altar server. Years later, upon taking monastic vows, he became a hierodeacon. In 1945 he graduated from the American University of Beirut, and from 1949 to 1953 studied at the Saint Sergius Theological Institute in Paris. On his return to Lebanon, the young theologian with a master's degree was ordained hieromonk. In 1942, he became one of the founders of the influential Orthodox Youth Movement in Lebanon and Syria, which has done much to renew youthful participation in Church life. In 1953, His Beatitude became one of the organizers of Syndesmos the worldwide Brotherhood of Orthodox Youth. In 1961 he was ordained Bishop of Palmyra and Patriarchal Vicar, and in the following year, he was sent to the monastery of Balamand as superior and as dean of the Theological Seminary founded, which in 1988 was transformed into an Orthodox University, the first in the Middle East. He has published a series of theological books and numerous articles. His Beatitude is an honorary doctor of Sorbonne and Saint-Petersburg (1981) and Minsk (2003) Theological Academies. In 1970, the future Patriarch was appointed Metropolitan of Latakia (Laodicea). On 2 July 1979, he was elected Primate of the Church of Antioch and enthroned on 8 July of the same year.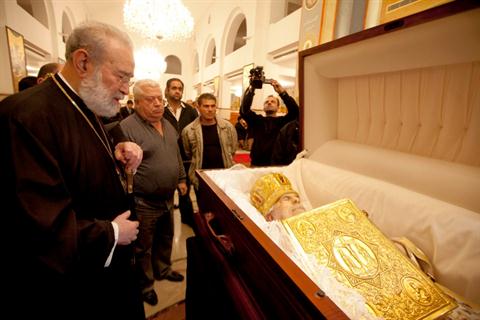 Patriarch Ignatius Hazim's funeral will be held Sunday at 12 p.m at Mariameh Cathedral and Patriarchate Cemetery, Damascus.