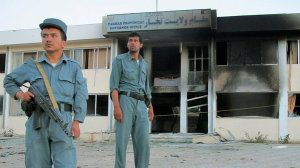 A synchronized attack by a pair of suicide bombers killed six people and injured nine others in northern Pakistan Monday morning, police said.
The attack took place at dawn in the small town of Kaki, south of Bannu city in northwest Pakistan, according to Nisar Ahmed Tanoli, a senior police official.
The assailants opened fire and threw grenades at a police station, before blowing themselves up minutes later, he said. One bomber detonated himself outside the police station and the other at a mosque behind the station where people were offering morning prayers.
Three policemen, an off-duty soldier and two civilians were among the dead, Tanoli said.
The bombings heavily damaged the mosque, police station and several shops.
This attack is the second in two weeks targeting security forces in the region.
source: cnn.com